Heard of the Condo By-laws? 7 things to abide by while staying in a Condo
Condo By-Laws (Strata Title) in Singapore
Building Maintenance and Strata Management Act(BMSMA) provide a set of By-Laws or Rules for SPs and Occupiers to obey to enjoy living with other residents in the strata development. Every MC must adopt these.
By-Laws are usually associated with the use and enjoyment of Common Property within the Condo.
 Compulsory By-Laws include: 
 a) Noise 
 b) Obstruction of Common Property  
 c) Drying of Laundry 
 d) Cleaning of windows 
 e) Car parking 
 f) Behaviours of Residents and Visitors 
g) Rubbish Disposal 
 i) Keeping of Animals 
 j) Control on use of facilities
The Management Council (MC) may also make Additional By-Laws subject to consideration and approval through special resolution during the AGM. 
Below is an example where Commercial Vehicles are not able to be Parked overnight.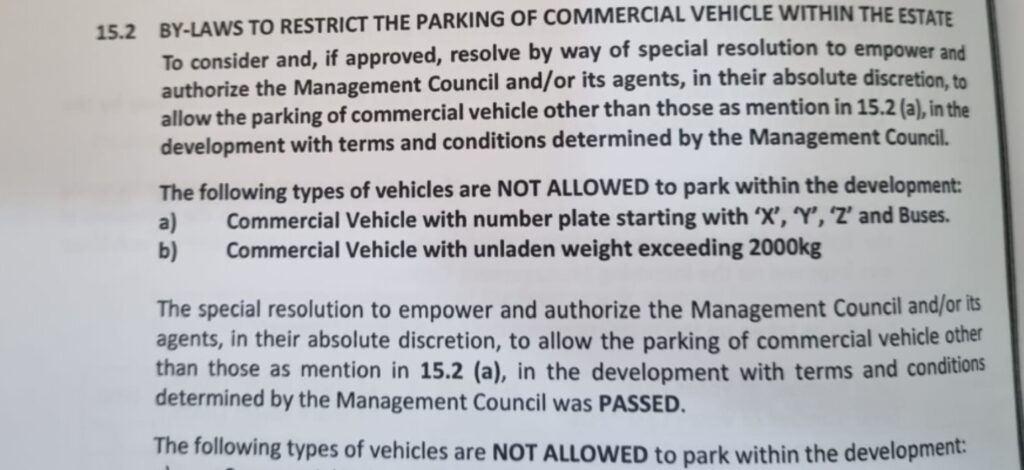 The Criteria for the Additional By-Laws to Pass is when the condo resident votes are a majority (>75% of share value) anything less brought up at a general meeting does not count as a by-law.
Bear in mind that the Additional by-laws are not allowed to contradict the compulsory by-laws.
We are here to help. We also provide  Free Condo Floorplan . If the floor plans is not inside the website do contact us and we will try to get hold of it and forward to you.