Buying A Condo By Floor Plan 
Do not be surprised that a handful of property buyers can make a decision to buy a condo based on their floor plans and layouts. The main two reasons are the Condo is building under construction(BUC) or the property is tenanted and the tenants not cooperative in showing "Potential Buyers".
But before deciding to buy a condo, in particular, you must read through the detailed description of the condo. For example, many things make an apartment building more attractive than another based on its layout and amenities.
Figuring out which floor plan is right for you when buying a condo is important. After all, you want to make sure you love your new home. But with so many different options available, how do you choose?
In this blog post, we'll discuss how to read floor plans so you can make an informed decision when buying a condo. We'll cover raw square footage, Singapore's unique features, and Distributed functional spaces. By the end, you'll be able to choose the right floor plan for you confidently.
The basics
An architectural floor plan shows a residential unit's layout and structure from a bird's eye perspective. In addition to basic information like the number of rooms, bathrooms, floors, and amenities within a unit, each floor plan will vary in detail.
Generally, Singapore's floor plans typically use the imperial system, with unit sizes shown in square feet (although some also use square meters). This section has a conversion table for the most common floor sizes in HDBs and condominiums. One square meter (sq m) equals 10.76 square feet (sq ft).
Singapore's unique features
Some aspects of floor plans are uniquely Singaporean despite similarities in symbolism, structure, and labelling. These include:
Household shelters(H/S):
A housing shelter became mandatory for all new residential units in Singapore in 1998 under the Civil Defense Shelter Act. Bomb shelters serve as pantries or storerooms in cases of heavy bombardment. The shelters are frequently referred to as bomb shelters. If your apartment is small (e.g., less than 900 square feet), a household shelter can take up a lot of space, making it feel cramped. Shelters for household items should also be placed in the hallway since dwellings set there appear smaller.
Bay Windows (B/W) and Planter box(PL) :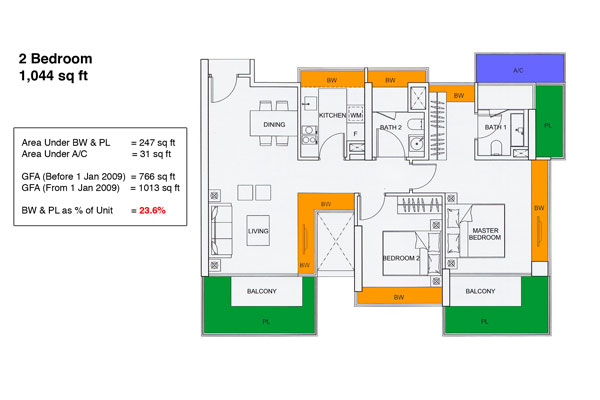 A bay window refers to the projection from a room that holds a set of windows raised at least 0.5m from the floor. The point is often in the form of a rectangular ledge and we commonly call it a window seat.
Planter boxes were introduced to provide 'vertical greenery' in condos and create 'visual relief to our high-density living environment'.
Bay windows and planter boxes, which may make up to around 25% per cent of a condo's saleable area, had been exempted from GFA calculations. Above is an example of the calculations. But developers had been charging buyers for them in providing them to buyers previously.
Fortunately, The ruling effectively removed Bay Windows and Planter Boxes from the exempted list which took effect on 1 Jan 2009. Hence the newer launched condo are largely built without the bay window which will represent a more accurate live-in space.
A commonly asked question is whether bay windows can be removed, they are structural, and you are not allowed to remove them. You could improvise the bay windows for more efficient usage or consider selling it off and upgrading to a bigger condo for your family.
PES: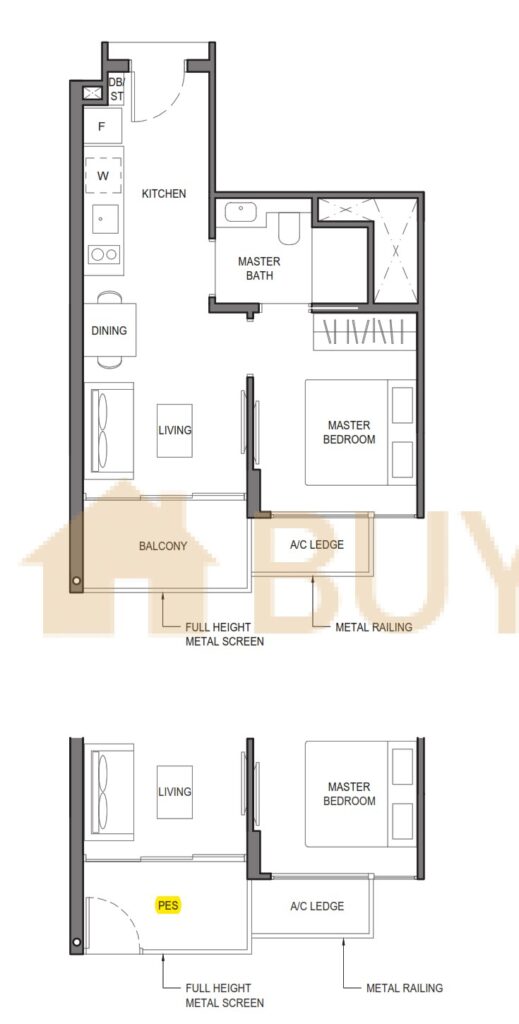 An outdoor space surrounding a residence on the ground floor is known as a PES. PES stands for 'private enclosed space' Since they are not restricted by size, PESs for private units can be as small as a shoe rack outside the front door to as large as several hundred square feet continuously surrounding the team. The PES will be useful for people who wish to engage in certain outdoor activities, such as gardening or meditation. Pet-Owners who wants to give their dogs more outdoor space.
Dual key layouts: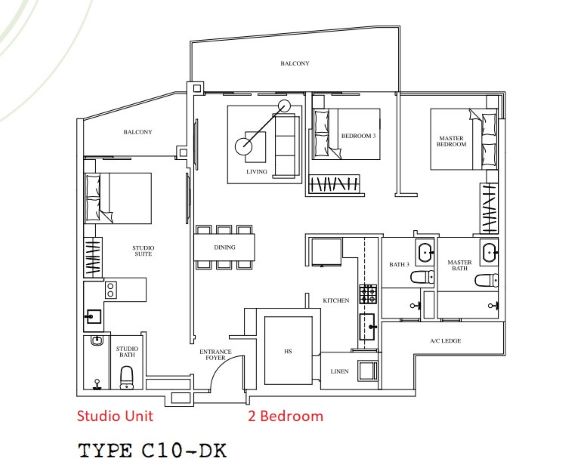 There are two separate homes within the same building in this dual key concept, a brand new local housing concept. There are various dual key options, including studios and three-bedrooms, as well as other dual key configurations. This unit has been referred to as multigenerational housing. You will need to purchase the dual key apartment for elderly parents or tenants to determine whether the studio shares amenities with the main apartment or is entirely separate.  
Maid room:
Among the Southeast Asian countries, Singaporeans employ the largest domestic workers. Most private condos come with a maid's room in their apartment, and some households opt to have a maid visit for a short time, while most opt to have a maid stay permanently in their home. There is a wide range of these compartments, from small ones only intended for sleeping to large bedrooms with attached bathrooms typically located down a hall from one another.  
Distributed functional spaces
There are many floor areas, including the main living area, bedrooms, bathrooms, kitchens, dining rooms, storerooms, etc., but supplementary spaces, such as planters, air conditioning ledges, PES, foyers, roof terraces, etc. The ratio of main areas versus extra spaces has to be examined since additional rooms do not come with any size restrictions. 
As an example, many double-storey penthouses have inflated floor sizes. Despite its impressive floor size, penthouse units may have open terraces and swimming pools covering half or more of their floor area. Likely, the main areas will only be marginally larger than those in the non-penthouse units, but they will be marginally larger than those in non-penthouse units (where you would spend most of your time). You have to decide whether you are willing to pay an excessive amount for such a penthouse apartment.
Likewise, suppose you will not be able to dedicate a significant portion of your household space to indoor plants. In that case, you have little reason to have 10 percent of your unit's square footage divided up between planters.
It is a good idea to investigate a unit's floor plan if you intend to buy one so you can determine if it is distributing space conveniently, that will reflect your lifestyle needs.
Why is a floor plan useful for upgrading/renovating?
By looking at the floor plan of a unit, you can also determine whether it is hackable. It is important to check the structure of the walls, doors, windows, and stairs in your unit if you would like to have the option of re-partitioning your space – some walls, doors, windows, and stairs are more difficult to restructure.
According to the rules laid out in the Civil Defense Shelter Act, walls, indicated by bold lines on the floor plan, are load-bearing walls – they are crucial in holding a building together and are not torn down. The thickness of the walls indicates whether they can be demolished. It is also forbidden to alter the walls that make up a household shelter according to the Civil Defense Shelter Act rules.
Some internal walls need the MCST approval before they can be removed. Stairways and doors attached to load-bearing walls are not allowed to be removed either. 
Some units also have a utility room, and some condominium units provide a study room or guest room. These spaces can be easily converted into a baby nursery or an office.
The bottom line is that, although floor plans do not tell you anything about how an apartment is furnished, its interior decoration, or how it feels – that would have to be determined after viewing the unit – they are a great visual aid, which is useful for both property brokers and buyers.