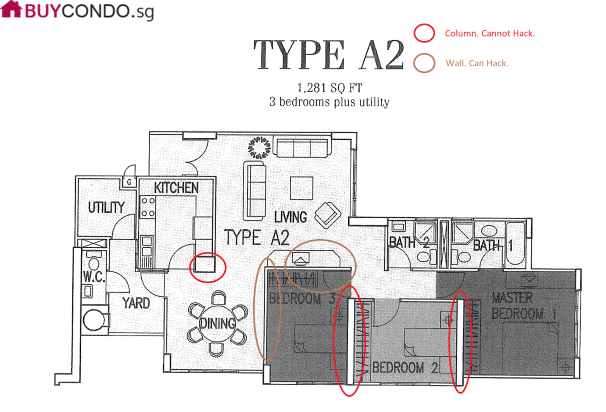 Above is a reference for the Tiara at River Valley,
When you are looking to buy and renovate your condo, usually anything that is unsure you may also bring the floorplan and ask the Management Office.
What You may require Next is before the renovation starts after the renovation application is submitted, your appointed Interior Designer will appoint a Professional Engineer(PE) to endorse and submit to the management office.
The cost for the PE endorsement is ranging around $800 for the hacking of Wall for Condo.
Other than the Beam/Column you see in the floor plan you will need to take into considerations the Aircon Pipings as well as you will require to patch/redo the floor in the bedroom and Living Room.
Options for Owners will be using Vinyl Flooring which more convenient and easy to maintain.
When you work with us Buy Condo Singapore we will make sure you have ease of mind from the purchase until the day you move in giving you all the advice and solutions that fits your needs.
For Condo Floor plan Check out below link.