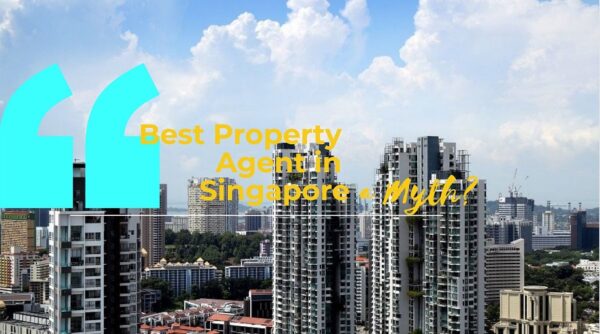 Best Property Agent in Singapore – a Myth?
Some Owners perceive the value of a Property Agent in Singapore, and all Agent is the same, and the Cheaper, the Better.
That is, in fact, not true. 
Homeowners want to hire the best property agent to sell their property at the highest possible price.
They regarded the agency fees are small compared to the sale price, especially in the private property market.
A Good Property Agent that works wholeheartedly should work in the best interest of the Sellers and should be able to achieve a sale price above market valuation by at least $20,000 to $50,000.
The Agent's chance may allow the entire sale process to take less than 30 days without necessarily reducing your price and without attracting unqualified buyers, which can save a lot of unnecessary inconveniences.
Real Estate Sellers Deserve a High Price for their Property!
Sellers always want to get the highest possible price for their house.
However, after trying to hawk their home for months on end, they may face buyers who:
-Treating your house like a show flat unit, expecting everything to be perfect.
-Property Buyers who offer you below market rate without appreciating all the work you've put into the house.
-Strangers who come and nitpicked about every little detail, even though they've only viewed your property 3-4 times.
Some people may look at many houses and never make an offer. And even if they do, their offer is much lower than the market rate.
This needs to stop!
What can be done (These are the Usual Stuffs)
We'll work hard to sell your house for the best price possible. We'll handle all of the paperwork and coordinate with buyers, so you can relax and know that everything is taken care of.
Video & Social Media Marketing
We use videos for marketing our properties, as they are an effective way to reach out to potential buyers in the vicinity of your properties. It allows us to connect with them and interest them in your properties before they even begin their search.
Get highly qualified buyers
We work with qualified buyers happy to pay more than your appraised value before seeing your property. It allows you to avoid wasting time and energy showing your home to people who cannot afford it.
Use Better Negotiation Power (Best Property Agent? Don't Just Talk but Show)
The presence of a professional negotiator on your side gives you a better chance for success during the sale of your home. We use the most effective techniques to get you the best possible price for your property.
How List your Property With Buycondo.sg makes a Difference? We Goes Deeper…
If your Property No Sold?  Not able to achieve fetch the price you want? Why do you need to speak to us first before deciding the price?
---
When we Represent Home Sellers for the Sale of Property.
Stack Analysis.

Neighbouring Similar Size Analysis.

Tower View Price Analysis.

Rental Yield Comparisons.

Unit Facing Comparisions.

Developer Launch Price Comparisons.

Location Growth Potential Comparisions.

Mcst Fees Comparision. (To Prepare the Buyer)
We have been long enough serving Property Buyers to know what they need to know to convert.
Why do You Work With Us? (Best Property Agent? For You to Find Out)
We are a team of top-rated property agents in Singapore.
More than 200 personal sales transactions in Singapore

Sell your property for more than market value

No staging or renovation is necessary
We are equipped with the power skills to represent Home Owners.
We can help you sell your property for more than its market value in less than a month without reducing the price, staging your home, or renovating it.
Most people only sell their house every 5 to 15 years.
We acknowledge that homeowners ought to get the best output from their real estate.
When a property is not selling for as much as the seller would like, it's not doing the seller justice.
Selling their house for a price similar to their neighbour's isn't getting them the best return on their investment.
How We Work
(Can't Claim to be the Best Property Agent but we are committed to Make a Difference)
FREE Consultation
First, we'll invite you to a free consultation at your place at your convenience.
Find out your plans and goals, Providing what you need to know before selling your property.
Property Makeover (Optional)
Next, we'll make some recommendations to make it easier for buyers to see the potential of your property.
We'll also create professional listing and marketing materials for your property.
Finally, we'll feature your property on all the top property portals to ensure maximum exposure for your property, including over 93% of online property buyers in Singapore who visit PropertyGuru first before searching anywhere else!
Pre-Qualify With Buyers
Our team will collect feedback from interested buyers and pre-qualify them with you so that you only meet with qualified buyers who are keen to buy.
Viewings With Potential Buyers
Then our team will arrange viewings with potential buyers and their agents at times convenient for you.
Our experienced salespersons will accompany all viewings and will guide and advise on handling these negotiations with prospective buyers and agents.
Review Your Offers
After all the viewings are done, we will collate all offers that you have received from serious buyers.
We will get you Multiple Offers to review and let you choose which offer is best for you.
Your Property Is Sold! Best Property Agent Perhaps can Get You The Price you Want?
We will draft and prepare the contract of sale with the terms and conditions in the best interest once you have selected an offer.
Results That We Have Gotten for Our Clients
82 LORONG 23 GEYLANG #06-xx: SOLD $130,000 MORE (Sold By Us April 2022)
The market price in that area was about $1,150,000.
However, We manage to sell the house for $1,280,000 more than average at $1,100,000-$1,200,000!
https://buycondo.sg/property/atrix-at-aljunied-freehold-industrial-commercial/
xx HINDEHDE PLACE: SOLD $400,000 MORE (Bought By Us April 2022)
The valuation price for the property from the majority bank was about $4,800,000.
However, the buyer does see the potential in the property; he purchases it at a higher price with further potential growth.
xx FULTON ROAD: SOLD $400,000 MORE (Sold By Us December 2021)
The last done in that area was about $4,100,000
However, We manage to sell the house for above $4,500,000.
FAQ on the New Cooling Measures
(Take Effect on 30 September 2022)
Will you be affected by the recent cooling measures?
Singapore has just introduced new cooling measures concerning TDSR, HDB LTV, and interest rate floor.

You should be fine if you have signed the Option to Purchase for your private property on or before 29 September 2022.

If no OTP exists, Sales & Purchase Agreements signed on or before 29 September 2022 should be fine.

For HDB, if your HLE application letter and Sale launch date (BTO & SOBF) were received on or before 29 September 2022 you should not be affected by the interest floor change.
A 15-month wait-out period for Private Property Owners and Private Property owners will be added for non-subsidised HDB resale flats except for older people aged 55 and above who want to downgrade to a 4-room or smaller flat for retirement.
The 30 months waiting period for subsidised HDB flats will remain unchanged.
In some exceptional cases, regardless of age, or financial difficulties, the existing private property owners looking to sell or have already sold may also approach HDB for assistance, and they will assess your situation on a case-by-case basis.
How am I affected by the Stress Test Medium Term Interest Rate and HDB Loan LTV changes?
For those taking a bank loan, the TDSR remains at 55%.

However, the stress test interest rate used to calculate Loan affordability for Private Residential Property will increase by 0.5% to 4% rather than 3.5%.

The stress test interest rate used to calculate Loan affordability for Commercial Property will increase by 0.5%, to a total of 5%.

For those buying an EC from a developer, the MSR remains at 30%.

For those taking an HDB loan when buying an HDB, the MSR remains at 30%.
For Private Residential Property Purchase
TSDR Interest Calculation from 3.5% to 4%
For those taking a bank loan for private residential property,
Using an example to help you gauge the impact, we use the following assumptions.
Household income: $10,000.
Borrower's Age: 35, Max 30 years tenure.
Under the current 55% TDSR rule, if you do not have outstanding loans, your total mortgage can only go up to $5,500 a month.
Previously under the 3.5% interest rate used for TDSR calculation, the Loan quantum was $1,224,822.
Now after the 0.5% raise to 4%, the Loan quantum is $1,152,037. This is around a 5.94% reduction in loan quantum. (Just for this application)
For HDB Residential Property Purchase
Change of HDB Loan Stress test Interest Rate from 2.6% to 3%
HDB Loan rates still remain at 0.1% + CPF OA rate = 2.6%
For HDB housing loans would be based on 80% LTV. (From 85% previous)
For HDB Bank Loan, it would be based on 75% LTV.
This example is for those buying an HDB or taking an HDB loan,
Under the current 30% MSR rule,
Household income: $10,000.
Borrower's Age: 35, Max 25 years tenure.
Previously under 2.6% interest rate for MSR Calculation would mean an HDB LOAN quantum of ~$661K.
After an increase to 3% interest rate used for MSR Calculation, HDB LOAN quantum of ~$632K.
This is around a 4.33% reduction in loan quantum. (Note: This % reduction varies with loan tenure, etc.)
Change of HDB Loan LTV from 85% to 80%
Assuming a 600K HDB flat,
Previously with LTV 85%, it would mean a Loan quantum of up to 510K
Now with an LTV of 80%, would mean a Loan quantum of up to 480K
*Subject to TDSR/MSR.
How does the wait-out period of 15 months for private residential property owners (PPOs) and ex-PPOs to buy a non-subsidised HDB resale flat impact me if I'm below 55 years old?
Suppose you have sold your current private property or are marketing your private property and planning to move into an HDB. 
FAQ for Home Sellers.
I'm Under an Exclusive Agreement with an Agent. Can You Help?
If the Agent fails to deliver to the expectations, we can assist you in finding a suitable agent, or where you have found your ideal property, we can negotiate with the seller's agent.
What's the average selling time to sell my home?
As fast as 1 day to 3 months to sell a unit.
However, based on our current sales figures, the average time to find a buyer is about 1.5 months.
How will a real estate agent help me sell my home?
The best reason to sell through an agent is their ability to expose your home to more potential buyers. They have access to multiple listing services and other online resources, and databases, enabling them to reach thousands of potential buyers.
An experienced agent can help price the home right, advise on repairs and improvements that will enhance the value, and be there, from negotiating offers to overseeing inspections and closing details.
Due to the recent measures, let us take care of the concerns if any:
If you are affected by the recent cooling measures and need to adjust your property journey to navigate these harsh macroeconomic conditions appropriately.
We have the right mechanisms to help you determine the loan quantum you may be eligible for.
How To Sell Your Condo Fast In 2023