Oxley Bizhub 2 Directory and MCST Leasing agent 214 views
District: D14 - Eunos/ Geylang/ Paya Lebar
Oxley Bizhub 2 is a development located along 62 Ubi Road 1, Singapore 408734 District 14. Completed in 2015. View details at buycondo.sg
Project Name
Oxley Bizhub 2
Developer
Oxley Ascend Realty Pte. Ltd.
Architect
TBA
Site Area
TBA
No. Of Units
271 units (inclusive of 1 ancillary staff canteen)
District
14
Tenure
60 Year Leasehold From 10/06/2011
Expected TOP
2015
Carpark
TBA
Unit Types

Light Industrial Units: sqft (270 Units)

Ancillary Staff Canteen: sqft (1 Unit)
Oxley Bizhub 2 Directory ( 13/6/2023)
ABSOLUTE MINDS PTE LTD #06-12
AIPHONE PTE LTD #05-14
AIR SOURCE TECHNOLOGY PTE LTD #03-04
ANEWTECH SYSTEMS PTE LTD #04-11/12/14-17
ASHLEY LOW PHOTOGRAPHY #08-01
ASIAPAC HOLDINGS PTE LTD #07-04
ASTUTE PROFESSIONAL TRAINING ACADEMY #05-16
BAMBINI PHOTOGRAPHY #10-24
BIZSQUARE MANAGEMENT CONSULTANTS PTE LTD #08-06
BLACK CHAMBER DISTRIBUTION PTE LTD #10-11
BLACK DASHFUR PTE LTD # 10-18
BLACK STUDIO LLP #10-04
BORE PRECISION PTE LTD #06-03
BRISTOL ASIA HOLDING PTE LTD #10-02
BUNDLELUXE PTE LTD #03-07
CARPENTERS.COM.SG PTE LTD #01-01
CAPIO TECHNOLOGIES PTE LTD #11-12
CARBON GLOBAL TECH PTE LTD # 10-02
CATNAP LAIR PTE LTD # 01-34
CEE TECHNOLOGIES #08-10
CHAN LI COMM SVS PTE LTD #03-20
CHARA #08-25
CHUAN TENG PETROLEUM PTE LTD #07-25
COMPONIQUE INTERNATIONAL PTE LTD #06-10
CREATION FREIGHT (S) PTE LTD #06-10
CWG PTE LTD #07-08/09
DAGNC PRIVATE LIMITED #08-18
DAVE'S WORLD INTERNATIONAL PTE LTD #01-23
DE STYLE INTERIOR PTE LTD #01-02
DESIGN FUSION PTE LTD #10-19
DESIGNERS LIGHTING PTE LTD #01-30/31
DESIGNS RULES PTE LTD #11-11
DING FUNG DEVELOPMENT (INTERNATIONAL) PTE LTD #11-04
DREAMZ STUDIO PTE LTD #04-07
EASE MANAGE PTE LTD #08-04
EFH & COMPANY PTE LTD #05-19
EI-BIZ MANAGEMENT PTE LTD #06-08
ELMWOOD GROUP PTE LTD #03-16
EPSCO (ASIA PACIFIC) PTE LTD #02-02
ESO TORRA INDESIGNS PTE LTD #08-19
EWEKA INTERNATIONAL #06-22
EXFO ASIA PACIFIC PTE LTD #09-01/02
FASH MOB #04-18
FATIMAH MOHSIN SINGAPORE #03-13
FERGHANA INC PTE LTD #05-06
FLAMES TREE INVESTMENT HOLDINGS PTE LTD #04-09/10
FORVIS CONSTRUCTION & ENGINEERING PTE LTD #05-08
FUCHSIA LANE PTE. LTD. #11-01
FU JIANG HOLDINGS PTE LTD #04-22
FU XIANG CONSTRUCTION PTE LTD #06-07
FUSE DESIGN #09-26
GI LIFE SCIENCES PTE LTD #11-02
GIVE FUN #08-23
GLORY TRADING & MINIMART PTE LTD #01-13/14
GROUND INSTRUMENTS & ENGINEERING PTE LTD #01-27/32
GWT PTE LTD #07-07
H CONCEPT ASIA PTE LTD #08-26
HARVEST WELL ENTERPRISE PTE LTD #02-03
HELLO CORNTENT PTE LTD #09-07
ID. INC INTERIORS PTE LTD #09-08/09/10/11
INDO+SUISSE PTE LTD #03-11
INDO+SUISSE INTERNATIONAL PTE LTD #03-11
INK ON PAPER COMMUNICATIONS PTE LTD #06-06
INPURPOSE RESOURCE PTE LTD #08-15/16
INTERACTIVE PRICING PTE LTD #10-02
INTRAPORTS MARINE PTE LTD #05-12
IPDC SOLUTIONS PTE LTD / VENUSTECH (S) PTE LTD #06-14
J.K. ALEX INTERNATIONAL PTE LTD #03-11
JKK TECHNOLOGIES PTE LTD #04-25
JP CONCEPT PTE LTD #04-08
JVKM TRADING PTE LTD #11-08
KNOCK MY STORE #05-20
LEADER RADIO TECHNOLOGIES PTE LTD #09-14
LEARNING MATTERS LLP #07-26
LNM CORPORATE SOLUTIONS PTE LTD #04-24
LUXTER MARKETING PTE LTD #10-02
MANAGEMENT OFFICE #01-42
METER SQUARE PTE LTD #01-37
MDIVINE INSURANCE AGENCY #06-05
MILLENNIUM OIL PTE LTD #06-16
MOBOT PTE LTD #03-23
MULTICO BUILDING PRODUCTS PTE LTD #01-05
MY STAR HARVEST #07-18
NATCO PHARMA ASIA PTE LTD #03-21
NCE CORPORATION (S) PTE LTD #04-22
NEXUS LINK #05-10/11
NOBLE INTERIOR DESIGN PTE LTD #01-03
NOBLE LIGHTING HOUSE PTE LTD #06-23
NOREHAN FONG – HARUN #11-06
NOVOSIN HOLDINGS PTE LTD #03-18
OFFSET & DIGITAL PRINTING #03-22
OPS DESIGN PTE LTD #08-11
PAIN SOLUTIONS PLTE LTD #10-15
PARTY JOY PTE LTD #02-03
PCOM PTE LTD #04-04
PGN PTE LTD #07-10/11/12
PMSQUARE PTE LTD #06-01
POH SENG HARDWARE ENTERPRISE PTE LTD #01-28
POSH LIVING INTERIOR DESIGN PTE LTD #01-06
PROBIOSCIENCE TECHNOLOGIES PTE LTD #08-22
PROC OFFSHORE SERVICES PTE LTD #06-24
PROMINDS PTE LTD #05-07
PROPERTYLIMBROTHERSMEDIA PTE LTD #11-15
REFLECTIONS COSMETOLOGY PTE LTD #08-07
ROBOT PLAYGROUND MEDIA #08-05
RUBIKS STUDIO PTE LTD #01-40
SCS TECHNOLOGY #10-01
SDL LOGISTICS PTE LTD #08-12
SHADE MATTERS #07-02
SHINING ENTERTAINMENT INVESTMENT PTE LTD #04-05
SIMPLY HAMPER/BLOOMS #01-19, #02-05
SINO VENTURES GROUP PTE LTD #10-06
SKYLIFT CONSOLIDATOR PTE LTD #09-15~22
SPIRALTECH PTE LTD #07-03
SSB TECHNOLOGIES PTE LTD #09-25
STARLIGHT BUILDING MAINTENANCE SERVICES #06-13
STUDIO MAKAL PTE LTD #09-04
STUDIO FORTY31 #05-18
STUDIOPLAY PTE LTD #05-24
T.EI-BIZ MANAGEMENT PTE LTD #06-08
TH CHUAH & PARTNERS LLP #06-18/19
TECHWISE OFFSHORE CONSULTANCY PTE LTD #06-24
TEXTURE DIGITAL PTE LTD #10-26
TEXTURE MEDIA PTE LTD #10-13
TNT SURVEILLANCE PTE LTD #10-20
TOMATO PHOTO #10-23
TRACE DESIGN + BUILD PTE LTD #07-20/21
TRUST-BUILD ENGINEERING & CONSTRUCTION PTE LTD #11-03
TSANG PHOTOGRAPHY PTE LTD #06-08
TUNGALOY SINGAPORE PTE LTD #06-11
UHB INTERNATIONAL PTE LTD #07-01
VICTORY KNIGHTS MGMT & CONSULTANCY SVS PTE LTD #09-03
VIVOPRESS CORPORATION PTE LTD #01-39
W SPACES #02-01
WALEN TEC ASIA PTE LTD #04-02
WALLHUB PTE LTD #01-36
WEIKEN.COM #01-04 / #01-18
WINDOMATIC WINDERS #04-23
Y-WA BUSINESS SOLUTION PTE LTD #10-21
Oxley Bizhub 2 MCST Details
MANAGEMENT OFFICE DETAILS
THE MANAGEMENT CORPORATION STRATA TITLE PLAN NO. 4060 62 Ubi Road 1 #01-42 Oxley BizHub 2 Singapore 408734 Tel: 6538 9629 Fax: 6538 2390 Email: [email protected]
If you would like to communicate or get in touch with our management office personnel, the details are as follow:-
Complex Manager : Mr James Ong
Property Officer : Ms Syidah
Technician Mr Amin
Unit No. #01-42 Oxley BizHub 2
Office Tel: 6538 9629
Email Address : [email protected]
FCC Tel:  65382368
Oxley Bizhub 2 Parking Rates
Metro Parking
PARKING RATES
CAR / VAN
Mon – Sat
7.00am to 6.00pm
6.01pm to 6.59am (next day)
LORRY/HEAVY VEHICLE
Mon – Sat
7.00am to 6.00pm
6.01pm to 6.59am (next day)
MOTORCYCLE
Mon – Sat
7.00am to 10.00pm
10.01pm to 6.59am (next day)
1st Day
2nd Day
3rd Day
$0.80 per ½ hr
or part thereof
$2.50 per entry
$1.60 per ½ hr
or part thereof
$3.20 per entry
$0.85 per session
$0.85 per session
Free Parking on Sunday & Public Holiday
CONTAINER 20-Footer 40-Footer
$20.00 $30.00 per calendar day
$40.00 $60.00 per calendar day
$60.00 $90.00 per calendar day
Grace Period 10 minutes
ALL RATES ARE INCLURIVE OF GST
NOTICE
METRO PARKING (S) PTE LTD (THE MANAGEMENT) and MCST 4060 OXLEY BIZHUB 2 ("THE OWNER")
and/or their authorized agents do not accept any liability or responsibility for (1) any loss,
accident or damage caused to any vehicle or its content whilst in the premises of this
car park; and/or (1) any injury or death suffered by any person in this car park.
Vehicles are le at the owner's risk.
The use of this car park is subject to such terms and condicons as may be implemented or
supplemented by THE MANAGEMENT OR THE OWNER.
Oxley Bizhub 2 Leasing / For Sale Agent. 94507545
Location Update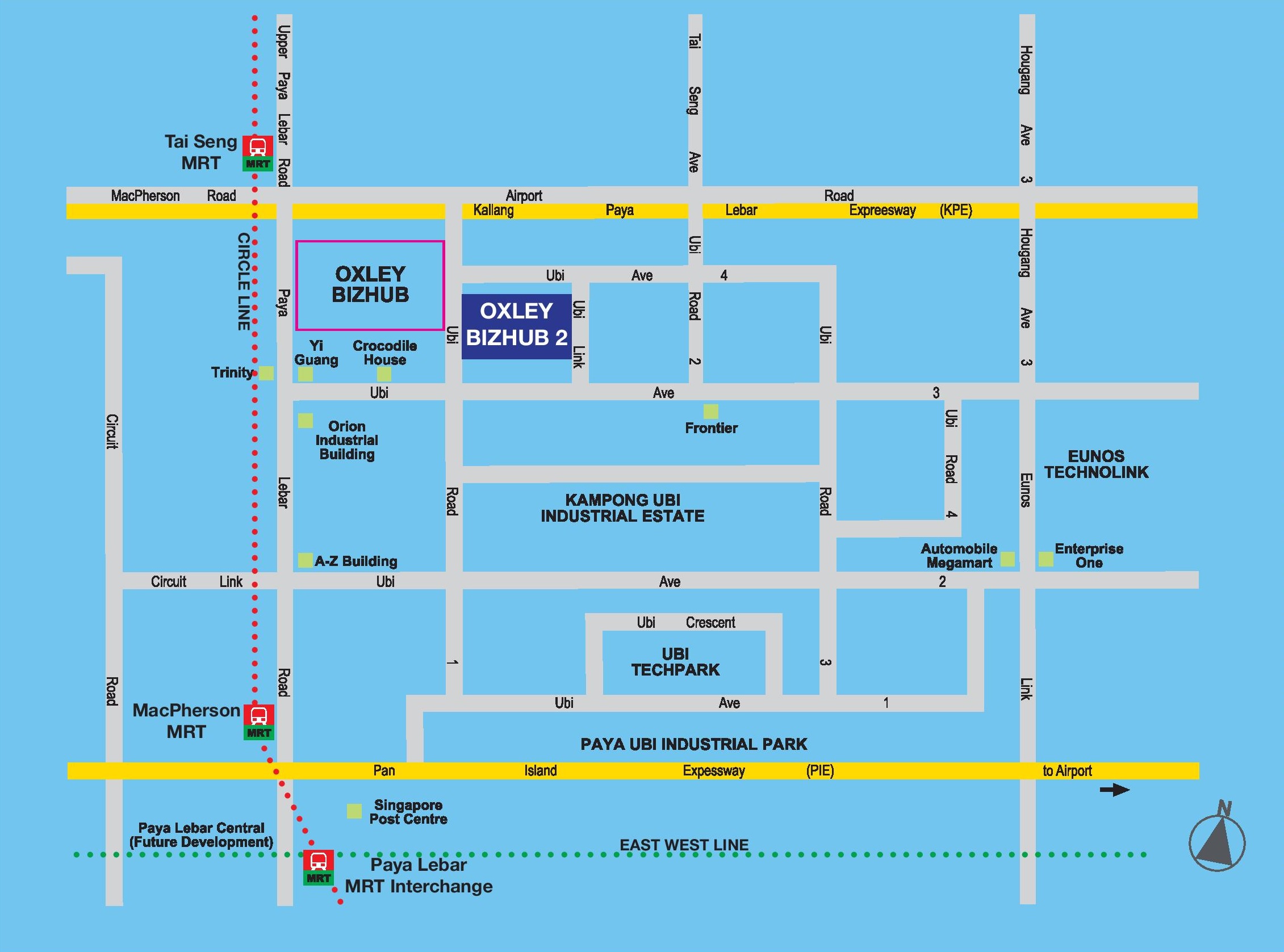 Siteplan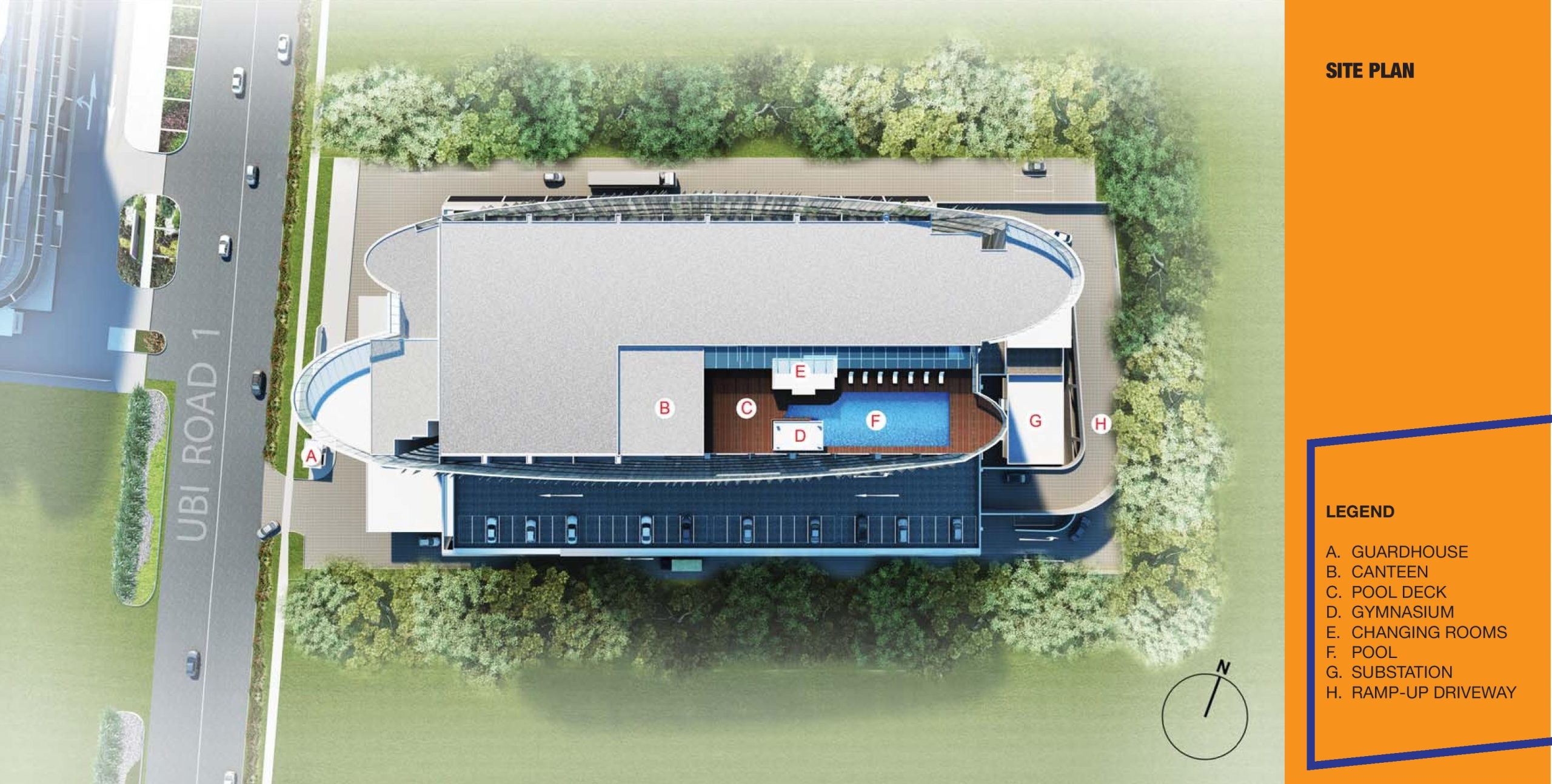 Frequently Asked Questions
Oxley Bizhub 2 Directory and MCST Leasing agent is located at 62 Ubi Road 1, Singapore 408734 .
Get the best condos with us now
You can book appointments with us at your convenience. We believe that meeting face to face will bring the best value for both of you.
Can we get your Personal Insights...