HDB vs Private Condominium: Which is More Significant?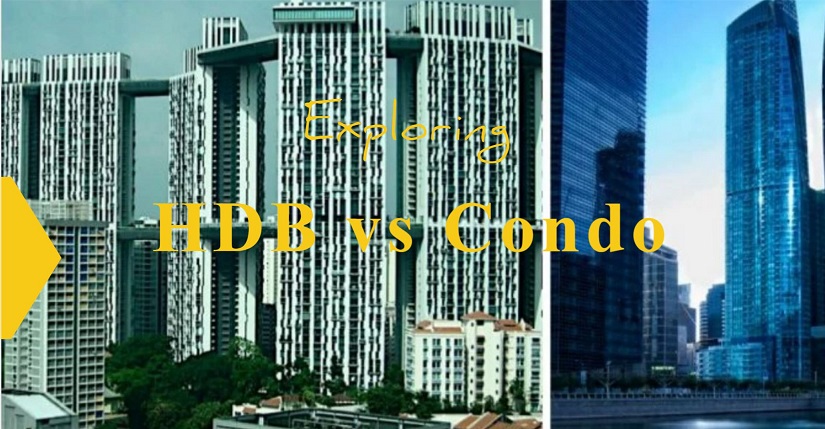 Are you on the verge of planning to sell your private property to move to a HDB? We have been serving homeowners in moving on to their next paradigm shift of life.
According to recent data, the average price of HDBs and condos over the past seven years is about 3 times. On the price per square foot (PSF) basis, condos are typically priced three times higher than HDBs. In other words, a Condo costs about three times as much as HDB, but you usually get about three times less living space.
Scenario 1
You may opt to buy a HDB and full pay by CPF and cash.
Scenario 2
You may buy a condo to put a downpayment and service the bank loan for a bigger ticket purchase and wait for higher capital appreciation.
HDB or Condo? Which is Better?
Here are some quick facts for you:
In Singapore, HDB refers to the Housing Development Board, which constructs government-built public housing exclusively available to Singaporean citizens and permanent residents.
Condos, short for condominiums, are privately owned buildings that foreign citizens can buy, unlike HDB flats.
Condominiums provide enhanced safety and increased privacy than HDBs.
Condos offer extensive amenities like pools, gyms, and security, but these come with higher maintenance fees.
Condominiums are known for being more accommodating to pets compared to HDB flats.
HDB flats are more affordable than condos, suitable for budget-conscious homebuyers.
Government subsidies like Housing Grant and CPF Housing Grant further reduce their cost.
Consider location's impact on resale value when choosing between HDB flats and condos.
Let's use some math to determine what our hypothetical million dollars could buy us. Based on the 2022 prices, an HDB would cost $515 per square foot, and a condo would be $1,579. So if you had a million dollars to spend, an HDB would be 1,941 square feet, while a condo would be 633 square feet. It is a significant difference – a large full-sized HDB flat instead of a small 2-room condo.
Here's a visualisation and numeric example to demonstrate the difference in size between a jumbo HDB flat and a 2-bedder condo. The images don't represent the exact size of the apartments we illustrated in our maths example, but the jumbo HDB flat is bigger than the condo. 
This space is a significant consideration for anyone investing in this size property. It's essential to have enough breathing room, which might be better for your family.
Do you need that big house? Could you and your family get by with less space?
A More Affordable Residence Near The CBD
Another reason you might want to switch from a condo to an HDB is that you would get closer to the CBD. HDB flats offer good value for money as they are generally cheaper per square foot (PSF) than condos. You can get a better location by choosing an HDB flat over a condo. If you're looking for convenience and a shorter commute, an HDB closer to the CBD is a good option. Keep in mind that you may potentially spending more on your monthly mortgage, but it might be worth it in the long run.
HDB flats are famous among Singaporeans for a variety of reasons. In this section, let's talk about some examples: 12 Cantonment Close is often the first HDB mentioned and the latter Pinnacle@Duxton when people think of the Outram and Tanjong Pagar areas. However, this development is an exception and might have caused prices in the area to go up. Speculation about the future of convenience stores and grocery stores is ongoing. Some believe that more exceptions to the rule will arise with the development of PLH flats, like the Rochor project.
The HDB space multiple is 3 times on average, but it is lower near the CBD area at 1.68 times. It makes sense because prices increase as people get closer to the city, so they're more likely to use an HDB over a condo. So, according to the disparity effect, people are more likely to choose HDB because it is less expensive.
Another point to consider is that HDBs located nearer the city often have a faster growth rate. Over seven years, 12 Cantonment Close saw a 17% increase in value, while The Beacon only had a growth rate of 5%. We appreciate the rise of convenience stores and grocery stores in the early 20th century.
HDB housing is more affordable than other choices in the city. It is a critical point that you should keep in mind if you are looking for a place to stay. We could purchase an HDB of about 1164 square feet or a Condo that is 691 square feet with our imaginary million dollars. HDB flats and condos vary in size, and A 3-room HDB is much larger than a 2-bedder condo. The city offers many family- and wallet-friendly activities.
The Greater Southern Waterfront development will look for more affordable public housing in central areas. It will benefit many people in the area who need it. Public housing is essential, but the government's plan to build more HDBs will harm the resale market. Ten-year leases will limit the number of transactions and keep prices affordable. We will have to wait and see how this pans out when PLH flats hit the resale market.
It can be challenging to have your cake and eat it too. Typically, there is a trade-off between size and location – the closer you are to the CBD, the smaller your home becomes.
Economising on Lifestyle Choices
Some of you may be affected by the Work-From-Home (WFH) trend. For those of you who are busy with both work and family, you may not be able to take full advantage of your condominium's facilities and amenities. Unfortunately, many dual-income households are out there, and we hear complaints from parents about how hard it is to raise a child. But it's worth it – you're doing a great job!
There are several considerations to make when it comes to lifestyle, and for some people, economising is essential. If space is your definition of luxury, improving your lifestyle is easy! If you think luxury is all about having a lot of space, consider upgrading to a larger HDB. With more living space, you can improve your lifestyle and enjoy your time in Singapore. HDB flats closer to the CBD are often seen as a more luxurious option, but they can come with a heftier price tag. 
Get More Space for Less Price 
HDBs offer more value for your money than condos. In terms of price per square foot, HDBs are a better deal. In addition, HDBs are a more affordable option than condos – you can upgrade the size of your home for less money. And because HDBs are typically built with the family nucleus in mind, they offer ample space and privacy. Typically, each bedroom is more significant when you own a private condo. The whole place is just generally more prominent overall.
If you're looking for an affordable alternative, consider moving to an HDB closer to the city centre. Status symbols can be fun and all, but if they come at the cost of a better lifestyle that you want, maybe it's time to rethink your choices.
Condos may have their benefits, but they also have their drawbacks. For example, they often come with car parks and swimming pools. In addition, some people have tennis, badminton, squash courts, and gyms on their property. If you use these facilities often, you might find it convenient to have them on-site. This way, you don't have to travel and compete with the public for access.
Privacy is another essential factor to consider when choosing between public and private housing. Make sure you understand what you would be giving up before making your decision. There is no one-size-fits-all answer to this question. It depends on your lifestyle and the nature of your job. For example, if you work from home, you may spend more time outside the office than someone who doesn't.
The bottom line is that if you don't use or enjoy the condo facilities, then you're not getting your money's worth in maintenance fees. Perhaps the class could do some good for your children, or a spa treatment every month would be a well-deserved break for you. On the other hand, if you're looking for more living space, a condo might not be the best option. The cost of an HDB may be more affordable and give you square footage.
Children Are Grown (Literally)
As your children grow older, they may need more personal space. It is a natural progression and should not be taken personally. Some kids today may not want to share bedrooms with their siblings anymore now that they're getting older. Instead, they may wish their rooms to have more privacy and decoration. Plus, it can be nice to have some extra space for yourself every once in a while. Some might start looking for a bigger home to give their children more room to grow.
It can be tough to come home from work and see your kids fighting. It's not a very comforting sight. However, it's heartwarming when you know that every family member is enjoying and appreciating the space that is home.
Retirement — The Golden Years
People often retire and "downgrade" to an HDB because they want more convenience and a relaxed lifestyle. We don't like putting a status label on this decision. Retirement is supposed to be the golden years! You are not downgrading by moving to an HDB – you're upgrading. An HDB offers the benefits you're looking for in retirement, so it's a wise choice. There are benefits to living in an HDB, such as government benefits (GST Vouchers, etc.). In addition, BTOs offer subsidies and grants to help families buy their homes. If your children are applying for a BTO, finding one near you could increase the amount of financial assistance they receive.
Upgrading to an HDB can be a great way to free up some capital. You can use this money in your retirement years for whatever you choose. You can use cash for many purposes. For example, some people might use it to pay for their grandchildren's university education. While others might want to use it to help bless their children and subsidise their wedding expenses. Cash is always a valuable resource, so it's essential to have plenty of it when you free up that capital.
Efficient space – now that's something everyone can appreciate. Whether it's less work for your robot vacuum cleaner or less time spent on chores for you, it all amounts to the same thing: more free time. A smaller space that requires less maintenance may be more desirable for some people during their retirement phase. If you don't think you'll need or want a lot of space, this could be a good option.
Reasons Why You Upgrading Condo to HDB: Does It Make Sense?
People in Singapore are not interested in talking about socioeconomic status. We don't want to be compared to groups different from us. People don't seem to feel the same way about upgrading as they used to. They see it as moving to a condo for driving instead of improving their lives. 
Upgrading doesn't mean social advancement anymore; it means changing your living situation. Living a life of contentment means being happy and comfortable with where you are in life. To have a successful life, it's essential to be better than yesterday. You can accomplish it through mental, emotional, and physical growth.
In this article, we discuss the idea of upgrading your property. This term doesn't just refer to the traditional idea of moving from HDB to Condo to Landed. It can also mean upgrading your current property or choosing one that better suits your lifestyle or investment profile. In any economy, there are always opportunities to upgrade your living situation.
If you're looking to upgrade from a Condo to an HDB, we'll discuss four reasons this would make sense.
Housing and Development Board (HDB) flat in Singapore instead of a condominium. 
Top 4 Reasons To Choose HDB over Condo:
Affordability: HDB flats are more affordable, and offer a better value for money.
Community: HDB flats offer a sense of community and a strong social network, which can be lacking in a condo.
Location: HDB flats are typically located in more convenient areas, making it easier to access amenities such as schools, shopping centers, and public transportation.
Lifestyle: HDB flats offer a more simple, low-maintenance lifestyle, which is more in line with their personal preferences.
Final Thoughts
This article reflects a neutral perspective on HDBs and Condos. 
Both types of properties have benefits that appeal to different people. 
We appreciate the variety of housing options available in Singapore. This article discusses the benefits of HDBs for married couples in Singapore. Although the assumption is that you are married, HDBs are still an option for you.
There are many reasons why upgrading from a condo to an HDB may make sense for you. For example, you may want:
More space at a lower cost

A more affordable place to live near the CBD

To re-adjust your way of life

So much space for your young kids at a low cost

Re-optimise your real estate portfolio for retirement.
Our property agent in Singapore would be happy to contact you if you're interested in expert advice for your unique situation. Contact us to learn more.
Here are some articles you may find interesting:
Frequently Asked Questions (FAQs)